As a prolific climber and adventurer based in Salt Lake City, Sam Elias has made his way around the globe and back this past year, nabbing some first ascents, tackling beautiful lines and taking off the beaten path adventures. Here's a quick look at some of his career highlights from the past year, and a little preview of what's to come.
MARCH 2014 – American Hustle in Oliana, Spain
After spending five weeks in Oliana, Spain working an epic new route, Same nabbed the first ascent of American Hustle (5.14b).
APRIL 2014 – Climbing in Morocco
After living in a remote mountain village in Morocco, developing new climbing and working with the Atlas Cultural Foundation, Sam contributed this report to the National Geographic adventure blog. During his time in Morocco, he joined Kris Erickson and spent three weeks developing a new cliff in the High Atlas Mountains of Morocco.
JULY 2014 – PreMuir El Cap Ascent
In an essay for Voke Tab, featuring photos by Jonathan Byers, Sam shares his experience grabbing the third ascent of El Cap' PreMuir with Mike Kerzhner. This rarely repeated route was no easy feat, with seven days battling up 35 pitches of 5.13c/d.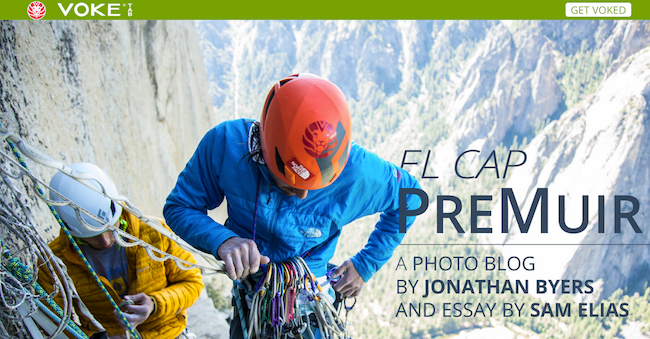 SEPTEMBER 2014 – Sustainability and Outdoor Ethics
In September, Sam ventured to Minnesota and Wisconsin to join the Leave No Trace Center for Outdoor Ethics on the road. Here he joined the Traveling Trainers to share his climbing adventures and educate others about the importance of practicing Leave No Trace outdoor ethics.
Not longer after, Sam continued to spread the environment love at the annual Yosemite Facelift, the largest organized volunteer cleanup of any national park. After a 5 A.M. wake up call, he and the group hiked 3000 feet to the top of El Capitan, rappelled 1000 feet down, and got to work.
JANUARY 2015 – Ice Climbing in Ouray
Sam's past experiences at the Ouray Ice Festival have been anything but boring. After highs (like placing 2nd in the 2010 comp just behind Josh Wharton) and lows (like taking a big fall off the ice in 2011), he returned back early this year taking 4th overall in the Men's Elite Mixed Climbing Competition.
MARCH 2015 – Adventures in Lebanon
"Activity is balanced with rest," says Sam as he travels to explore his roots in Lebanon and takes a much-deserved break from all things skiing, climbing, bolting, and touring. Sam is currently reporting from Lebanon where he's explored the untapped stone of the Middle East with friend Will Nazarian and his organization R-A-D (Rock Climbing Association for Development).