Story by Paul Kimbrough, photos by @teleskiermag / @joshnomadsen 
With a new 3-day structure and good weather roughly 80 telemarkers put on a wild display on Grand Targhee's Peaked venues. Snowy skies and good visibility greeted the juniors for Friday's junior qualifying day and the nearly 40 contestants age 11-18 got two runs to impress the judges and earn the honor to ski in the Saturday finals.
In the 11-14 Boys division the youngest competitor Canyon Cherney scraped his way into forth place with Kiegan Morrison going big and tumbling into third. Orion Cherney, Canyon's older brother, skied with smooth control and consistency to place second behind Crested Butte's Dane DeFrates who's flawless and fluid skiing earned him the top spot. In the 15-18 Boys Henry Nadell of the Colorado Rocky Mountain School edged his teammate Avery Kane for the victory and Conrad Truettner of Crested Butte rounded out the top three. The junior girls division was stacked and Bailey Abi-Nader's strong first run set her up to beat out Emily Bauer to claim first place.

Logan Jauernigg takes off
After a challenging qualifying day on the Reliable venue 19 men and 5 women earned the honor to compete in the finals on a challenging and technical Bobcat/Pinkslip venue a little higher up the Peaked ridgeline. In the women's division Kami Abi-Nader, Lucy Sackbauer, and Mackenzie Mailly made it into the Superfinal where defending champ Lucy smoothly claimed Gold with big air and good line choice. The men's division was super tight and 8 skiers made the Superfinal after some big airs, spicy billy-goating, and impressive tricks in the finals.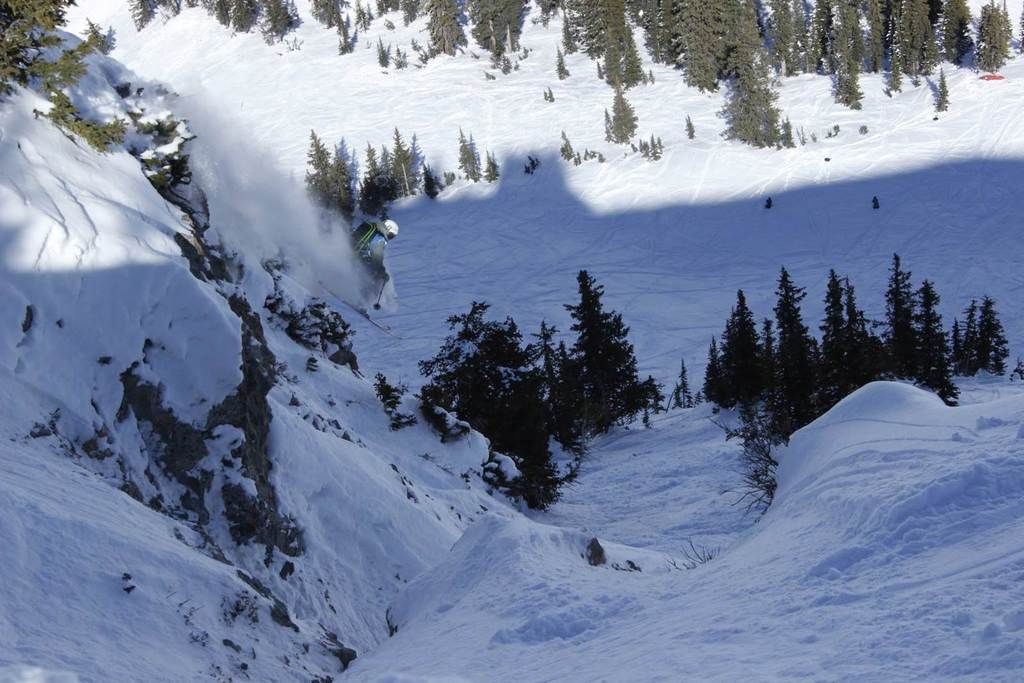 Former junior Champ and youngest Adult competitor, 16-yearold Bennett Drummond nailed a smooth double to earn fifth behind a hungry Ty Dayberry who's big airs on the final day bumped him from seventh to forth and earned him the Sickbird award. After four runs the top three men were separated by only one point each. Local favorite, Paul Kimbrough, fluidly skied into third place with smooth runs and stomped 360s, but Tim Shepard's flawless big air and technical doubles jumped him from forth to second. Defending Champ, Jake Sakson, edged Tim by a point and took home the Gold with an impressive 360 and his signature energetic style.

Ty Dayberry catching air
Come up to Grand Targhee March 19-22 to catch the final Freeride event of the season, the Grand Targhee Junior Freeskiing Open!